Home

/

BARCO | WHITE LABEL | APRICOT | PAINT/DUST | 10ML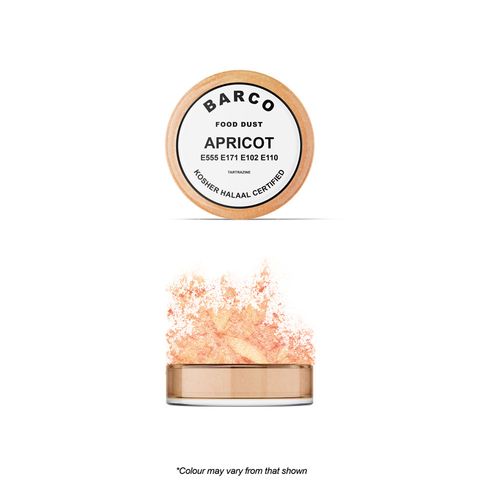 BARCO | WHITE LABEL | APRICOT | PAINT/DUST | 10ML
Details
Description
Barco, White Label is the perfect Satin Sheen, with flecks of Star light, dusting or painting powder to add that extra dynamic aspect, finish, dimension or shine to your sugar craft.

Characteristics:
Powder colours with a sheen and flecks of starlight
Food Grade
Kosher and Halaal certified.
GMO free
Vegan
Gluten Free
Nut Free (Possibility of external contamination)
Dairy Free (Possibility of external contamination)

These pigments are sold as a powder in different pack sizes. You can mix and match them as you wish to form more exciting shades and colours.

Used to:

Paint:
It can also be mixed into Quick Paint, Paint Base or pure lemon extract and used as a paint to paint onto fondant, decorations, pastilage, gelatine balls etc.

Dust:
Used to dry brush color onto gum paste or fondant designs. The result will be a PEARL like finish.

How to:

Paint:
In a small bowl, mix equal parts PINK LABEL PIGMENT and Quick Paint, Paint Base (for painting on chocolate or fondant) or pure lemon extract. Mix thoroughly before painting and stir often as it continuously settles to the bottom. If you need to paint more than one layer for even coverage allow each coat to dry completely before starting a new one.

Dust:
Dab the paint brush into the pigment and tip excess off. Test the colour by brushing in a circular motion on paper towel. If it is correct, do the same on the fondant or gumpaste designs you want to add colour to. Ideal for sugar craft flowers etc.
For fine details, a small round head brush works best. For larger areas, use a wider, flatter brush even the big round brush, used to apply blusher.
Delivery Information
Retail Customers: Orders placed before 12pm AEST on business days, will receive same day* dispatch. If orders are placed after 12pm AEST they will ship the next Business Day*.
Trade & Wholesale Customers: If you have a business registed with us orders can take up to 2 Business days* before they are dispatched.
Once your order has been shipped from our warehouse the delivery time is approximately:
On the Eastern Seaboard (Sydney, Brisbane, Melbourne) within 1-2 business days
In NT, SA, TAS, WA and other remote locations within 3-7 business days
Unfortunately our Couriers cannot deliver to PO BOXES, so please ensure you supply us with a physical delivery address.
Pick up orders will be ready approx. 24 hours* (allow 24-48 hours* if you have a business registeded with us) after your order is placed, you should receive notification that your order is ready to collect but if you are unsure if your order is ready or not, please contact us before coming in to store.
Click HERE for more detailed Shipping & Returns Information.
* Dispatch times may extend beyond the 1 - 2 Business days mentioned above during peak busy periods. Also if any of the following issues occur: Issue with Payment/Account, Delivery Address incorrect, PO Box supplied or Notify of Out Of Stock item ticked.
Other Customers Also Purchased