Home

/

CALLEBAUT | BLACK COCOA POWDER | 5KG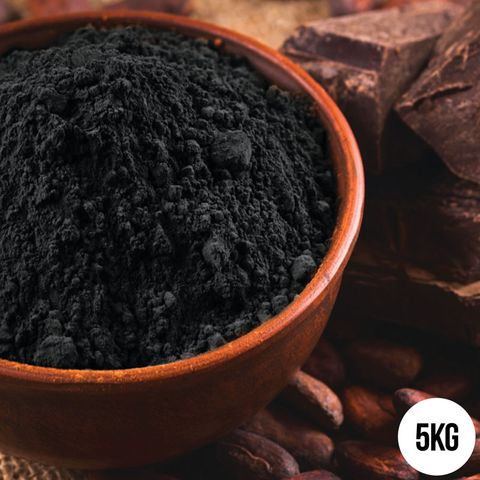 CALLEBAUT | BLACK COCOA POWDER | 5KG
or make 4 payments of
$18.75
with
More info
Details
Description
Black cocoa powder is simply a cocoa powder that has been heavily dutched or alkalised, it has a smoother non-bitter taste but does not taste like chocolate as a normal dutch cocoa would.

As the name suggests, black cocoa powder is much darker in colour than natural cocoa powder is – it's extremely black.

This super black colour is achieved by heavier alkalizing, and no food colours have been used to create it. This means that black cocoa powder is an amazing natural colouring agent. You'll be able to achieve a deep black colour for Buttercream or Cake Batter, that wont stain your teeth unlike Gel colouring can.

When baking with Black cocoa powder, the main thing you need to remember is you can't swap natural cocoa powder with black cocoa powder. Normal cocoa powder can be acidic (natural) or neutral (dutched), so always stick with the type of cocoa called for in that recipe. You can easily swap natural cocoa powder for black cocoa powder, but doing the other way around can result in a flat cake and sunken cupcakes. Black cocoa powder (as well as normal dutch cocoa powder) won't react with baking soda to help your cake rise.
Delivery Information
Retail Customers: Orders placed before 12pm AEST on business days, will receive same day* dispatch. If orders are placed after 12pm AEST they will ship the next Business Day*.
Trade & Wholesale Customers: If you have a business registed with us orders can take up to 2 Business days* before they are dispatched.
Once your order has been shipped from our warehouse the delivery time is approximately:
On the Eastern Seaboard (Sydney, Brisbane, Melbourne) within 1-2 business days
In NT, SA, TAS, WA and other remote locations within 3-7 business days
Unfortunately our Couriers cannot deliver to PO BOXES, so please ensure you supply us with a physical delivery address.
Pick up orders will be ready approx. 24 hours* (allow 24-48 hours* if you have a business registeded with us) after your order is placed, you should receive notification that your order is ready to collect but if you are unsure if your order is ready or not, please contact us before coming in to store.
Click HERE for more detailed Shipping & Returns Information.
* Dispatch times may extend beyond the 1 - 2 Business days mentioned above during peak busy periods. Also if any of the following issues occur: Issue with Payment/Account, Delivery Address incorrect, PO Box supplied or Notify of Out Of Stock item ticked.
Other Customers Also Purchased