Home

/

CAKE CRAFT | COLOURING GEL | LEAF GREEN | 30G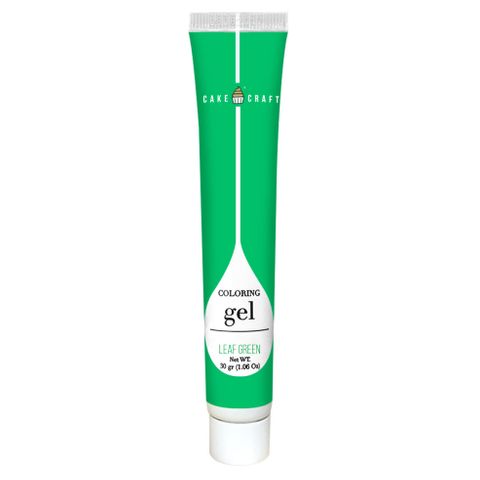 CAKE CRAFT | COLOURING GEL | LEAF GREEN | 30G
Details
Description
Cake Craft's Coloring Gel is rich in color, and is easy to mix. The concentrated coloring gel allows for less product to be used than traditional water based coloring gels, leaving you with consistent vibrant colors! With a range of 15 vibrant colours to choose from, Cake Craft ready-to-use Colouring Gels are perfect for colouring your edible treats! Simply mix with your product, drop by drop to your desired colour and remember ¨A little goes a long way:

Use Cake Craft Gels to colour Fondant, Cake Batter, Whipped Toppings and Icings, Buttercream Icing, White Chocolate and Compound Coatins, Royal Icing, Marzipan, Bread and Biscuit Dough

Cake Craft coloring gel is perfect for any of your baking adventures!
Delivery Information
Retail Customers: Orders placed before 12pm AEST on business days, will receive same day* dispatch. If orders are placed after 12pm AEST they will ship the next Business Day*.
Trade & Wholesale Customers: If you have a business registed with us orders can take up to 2 Business days* before they are dispatched.
Once your order has been shipped from our warehouse the delivery time is approximately:
On the Eastern Seaboard (Sydney, Brisbane, Melbourne) within 1-2 business days
In NT, SA, TAS, WA and other remote locations within 3-7 business days
Unfortunately our Couriers cannot deliver to PO BOXES, so please ensure you supply us with a physical delivery address.
Pick up orders will be ready approx. 24 hours* (allow 24-48 hours* if you have a business registeded with us) after your order is placed, you should receive notification that your order is ready to collect but if you are unsure if your order is ready or not, please contact us before coming in to store.
Click HERE for more detailed Shipping & Returns Information.
* Dispatch times may extend beyond the 1 - 2 Business days mentioned above during peak busy periods. Also if any of the following issues occur: Issue with Payment/Account, Delivery Address incorrect, PO Box supplied or Notify of Out Of Stock item ticked.
Other Customers Also Purchased