Home

/

CUTIE CREEPERS MINI HALLOWEEN ASSORTED DEC-ON (180) - OWL, PUMPKIN, BAT, HAT, MOON OR GHOST SUGAR DECORATIONS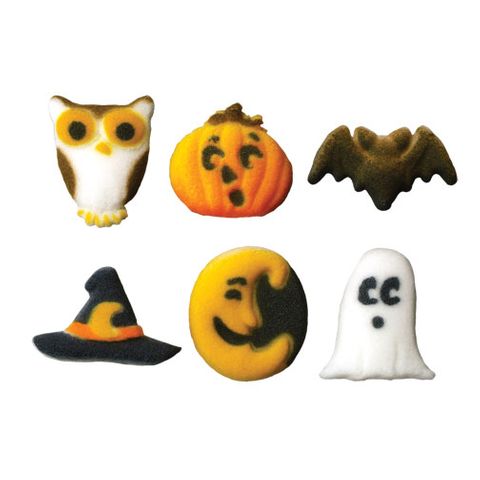 CUTIE CREEPERS MINI HALLOWEEN ASSORTED DEC-ON (180) - OWL, PUMPKIN, BAT, HAT, MOON OR GHOST SUGAR DECORATIONS
Details
Description
Approximate Size - 2.55cm LUCKS Compressed Sugar Dec-Ons Can Dec-Ons decorations be frozen? Yes, Dec-Ons decorations can be frozen. They can be used to decorate frozen products, such as ice cream cakes, and will also withstand the freeze/thaw process. Are there any allergens in Dec-Ons decorations? Egg whites, Dec-Ons decorations are manufactured in a facility that produces products containing eggs and soy products. Formulations that do not contain allergens are produced first on the equipment at the beginning of the day. Once complete, production moves into the formulations that contain allergens. A complete wash down and sanitation of the equipment is conducted at the end of the manufacturing shift. So while all care is taken, eggs are present in this facility. The following ingredients are NOT used in this manufacturing facility and will not come into contact with the products being produced: wheat, milk, fish, shell-fish (crustaceans) peanuts and/or tree nuts. Gluten Free Kosher - Orthodox Union Kosher Certified Please note-These decorations are packed in boxes with an assortment of designs/colours. When buying individual or small quantities, please specify the design/colour you prefer in the delivery instructions and will be do our best to accomodate your request. When buying boxes, please be aware that boxes will be sent as per the breakdown from the manufacturer and cannot be split or adjusted.
Delivery Information
Retail Customers: Orders placed before 12pm AEST on business days, will receive same day* dispatch. If orders are placed after 12pm AEST they will ship the next Business Day*.
Trade & Wholesale Customers: If you have a business registed with us orders can take up to 2 Business days* before they are dispatched.
Once your order has been shipped from our warehouse the delivery time is approximately:
On the Eastern Seaboard (Sydney, Brisbane, Melbourne) within 1-2 business days
In NT, SA, TAS, WA and other remote locations within 3-7 business days
Unfortunately our Couriers cannot deliver to PO BOXES, so please ensure you supply us with a physical delivery address.
Pick up orders will be ready approx. 24 hours* (allow 24-48 hours* if you have a business registeded with us) after your order is placed, you should receive notification that your order is ready to collect but if you are unsure if your order is ready or not, please contact us before coming in to store.
Click HERE for more detailed Shipping & Returns Information.
* Dispatch times may extend beyond the 1 - 2 Business days mentioned above during peak busy periods. Also if any of the following issues occur: Issue with Payment/Account, Delivery Address incorrect, PO Box supplied or Notify of Out Of Stock item ticked.
Other Customers Also Purchased